The Most Powerful Beta Glucan Supplement Available
Glucan Elite contains BGF-Immune® 1,3 Beta-Glucan 85%. This is a unique and highly bioavailable source of Beta Glucan derived from a cutting-edge fermentation extraction process that delivers 85% minimum of the isolated β-(1→3) linkage which research indicates may help to support immune health.* BGF-Immune® is produced via a solvent-free production process, and is kosher & halal.
The main structural component of BGF-Immune® is a linear β-Glucan with a (1→3)-β-D-glucose backbone as confirmed by FT-IR and 13C NMR testing. Molecular weight: 170,000~250,000 daltons (by HPSEC - high-performance size exclusion chromatography). The unique isolation of β-(1→3) linkage offers extremely high bioavailability compared to other derived sources of beta glucan.
BGF-Immune® Beta Glucan vs. Competitors
Barley β-Glucan [Structure: (1 → 3) (1 → 4)]
Typical Content Beta-Glucan: ≥ 25%
Oat β-Glucan [Structure: (1 → 3) (1 → 4)]
Typical Content Beta-Glucan: ≥ 45%
Mushroom β-Glucan [Structure: (1 → 3) (1 → 6)]
Typical Content Beta-Glucan: ≥ 50%
Yeast β-Glucan [Structure: (1 → 3)]
Typical Content Beta-Glucan: ≥ 70%
BGF-Immune® (1,3-Beta-Glucan 85%) via fermentation [Structure: (1 → 3)]
Typical Content Beta-Glucan: 85%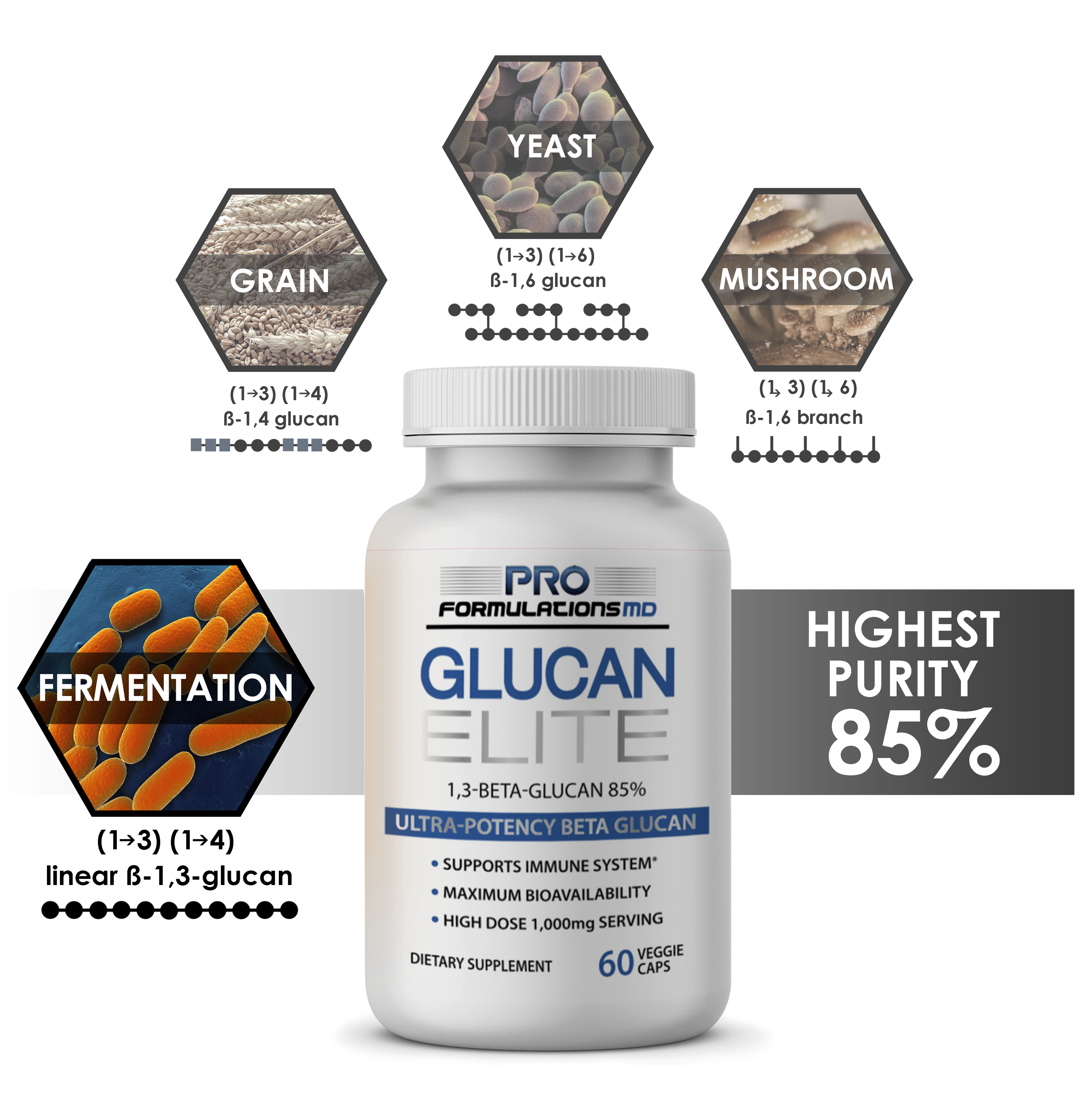 Research, studies and comparisons supporting BGF-Immune® used in Glucan Elite
Linear chain 1,3-Beta-Glucan 85% vs branched Beta-Glucan (from other sources): As seen from data collected and evaluated, linear chain Beta-Glucan (1,3 linkage) shows a little higher gene expression level with immune related cytokines such as interferon-gamma, IL-6, IL-10 and TTG-alpha than the comparisons with other branched Beta-Glucans.*
References:
More Information About Glucan Elite
Glucan Elite is a natural dietary supplement that is designed to help support the immune system by acting as a biological response modifier.* The only active ingredient in Glucan Elite is a (1,000mg per serving) of BGF Immune® Beta Glucan standardized to contain 85% minimum content of 1,3 chain linkage in a therapeutic potency supported by research. The 1,3 chain linkage found in Beta Glucan has many peer-reviewed scientific journals supporting its effectiveness and is one of the most compelling natural immunomodulators available as a dietary supplement.*

Glucan Elite is the best "value vs cost" Beta Glucan supplement available on the market in terms of percentage of 1,3 chain linkage, bioavailability and dosage. No other Beta Glucan supplement on the market will give you the same amount of active 1,3 linkage for the price as Glucan Elite, making it an easy choice for those who are serious about supplementing with Beta Glucan.*
BGF-Immune® is a registered trademark of NutriScience Innovations, LLC
---
SHOP OUR ENTIRE PRODUCT LINE